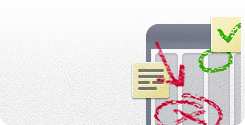 SEO Services + Tracking
Why do I need SEO?
The main idea of search engine optimization is to have the site placed in different search engines results in order to get visitors that are looking for some particular keywords. Statistics proves that the main clicks of users get sites that are listed on the first page of search engine results page (Google TOP 10, for example). This is what uForward offers its customers to get: internet marketing and search engine promotion.
Why don't I do SEO on my own?
Search engines do not belong to any SEO company. And only the small number of search engines' employees are informed of all the methods that search engines use to rank the sites in their results pages. All is left for webmasters is to complete all the well-known steps in order to get their sites into index and try to improve their rankings. These well-known SEO techniques are listed on every SEO blog or SEO section of any webmaster forum. You will spend several days to find out what to do and even more time trying to fulfill everything on your own. Several SEO tales and tips provided by thousands webmaster will make you exhausted by unpredictable results and constant race for better rankings. This is the time when webmaster decides to outsource these functions of search engine optimization and hire SEO specialist.
Why uForward.net?
Imagine that you got ill and need a help to get cured. There are several medical portals and books you can use in order to find what you are suffering from. You will try to find any term for all the symptoms that you have. The next step will be a your try to find a unique combination of all the symptom in one illness. It will become clear very soon that your combination of symptoms belongs to a large number of diseases. That will have different ways to get cured from… Several pills, several instructions, several steps that have to be followed one by one in a strict order. Will you try to be a doctor for yourself? We are sure you wont.
The same question can be applied to your own search engine promotion and your site' Google ranking improvements. Although SEO techniques are known for every webmaster only specialists who devote several hours daily to their analysis can tell which of them bring better results and what combinations should be used for this particular site.
Our approach for SEO can be described as a combination of constant development of new link building techniques based on deep analysis of SEO tactics used by the leading sites that reach Google TOP 10 positions in several different industries from ecommerce and small local businesses to global social networking sites or strictly orientated communities. Using these SEO methods in several different combinations provides excellent ranking improvements to our clients and helps us to be on the edge of the latest Google and other search engines updates.
Are you really better than others?
The main consideration for your decision to deal with uForward.net as your SEO provider can be described as these strong reasons list that makes us outstanding from every other SEO company:
1We offer FREE SEO trial. This means that we are not afraid to spend our time and efforts trying to improve your site rankings. We are sure that any webmaster needs Google TOP positions and if you finally meet the SEO company that brings you the real results you won't experiment with others. Every other SEO specialist can just provide you with a quote with high ticket invoice just to start examing your site.

2Based on your free SEO trial experience you will get the complete understanding what SEO company offer to the clients and you will become sure that noone will ever provide you such a detailed information on your search engine rankings and your competitors SEO tactics. While the majority of SEO companies offer your to choose just 3-5 keywords and track your positions we offer a complete report of SEO actions that your competitors do and our plan to become more successful in Google rankings than they are.

3Our clients have improvements in search engine rankings on SEO trial stage already. You will see that our techniques really bring results. And they will bring more success if you decide to continue our cooperation. SEO trial is just a start kit that everybody can do on their own. The main idea lies in SEO analysis of its results and further use of several other SEO tactics. This is what is the main interesting part of the whole search engine optimization process and that together with further link building will bring prosperous results to your business.

4While other SEO agencies offer some specific SEO methods and link building techniques like directory subscriptions or articles distributions there are some important questions that every webmaster wants to know and that they prefer not to answer: Why do I have to buy this particular package? What it will bring me? Why do you believe this particular link building method is better than other and why it's priced more? Does it really bring any result and will you refund me if it wont?

Choosing uForward.net as your SEO provider will let you concentrate on your business' processes and its financial results more rather than to spend your time trying to understand what SEO spendings will bring you results and what not. As a business owner you do not have to bother with questions what META tags should your site have; what density of keywords is better in your industry; how long time ago have search engine crawlers visited your site and what pages they failed to index and why; what backlinks and anchors bring you more results and which of the paid SEO actions are useless; and more… Like a good chief who knows the right combination of the ingredients for a perfect meal we know the ways to improve your rankings and get to the top. Surely you can try to cook it yourself… But are you sure you won't' waste the products and your time, destroy your kitchen and disappoint your guests?

5Upon our SEO plan completion you will become a SEO specialist who can do search engine optimization of your site on your own. With our SEO plan and tracking methods you will be your personal SEO advisor. Should you decide to order any SEO services from SEO outsourcing company in the future you will know the right questions to ask.
More about our SEO approach can be found on our FAQ page.
But why not try us and to become sure you won't need any other
SEO partners anymore?