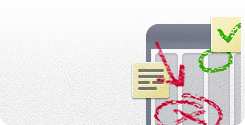 SEO Services + Tracking
Why uForward.net?
Imagine that you got sick and need help to get well. There are several medical websites and books you can use to find what you are suffering from. You would try to find any term for all the symptoms that you have. The next step will be to try to find a unique combination of all the symptom in one illness. It would become clear very soon that your combination of symptoms belongs to a large number of diseases. There will be different methods of treatment. They will involve several pills, different instructions, multiple steps that have to be followed in a strict order. Will you try to be your own doctor?
The same analogy can be applied to your own search engine promotion and your site's Google ranking improvements. Although SEO techniques are known for every webmaster only specialists who devote several hours daily to their analysis can tell which of them bring better results and what combinations should be used for a particular site.
Our approach to SEO can be described as a combination of constant development of new link building techniques. These are based on deep analysis of SEO tactics used by the leading sites that reach Google TOP 10 positions in several different industries. These range from ecommerce and small local businesses to global social networking sites or strictly orientated communities. Using these SEO methods in several different combinations provides excellent ranking improvements.
Are you really better than others?
What differentiates uForward.net from other SEO providers:
1We offer a FREE SEO trial. This means that we are not afraid to spend our time and effort trying to improve your site rankings. We are sure that any webmaster needs Google TOP positions and if you finally meet the SEO company that brings you the real results you won't be tempted to try others. Every other SEO specialist can provide you with a high ticket quote just to start examining your site. We complete a variety of several search engine optimization actions for free before our clients enter into agreement with us. Webmasters get essential information on their sites' current status, their rankings,competitors SEO techniques analysis, keywords market research and so on.

2Based on your free SEO trial, you will gain a complete understanding what SEO companies offer their clients. You will become aware that none of our competitors will ever provide you such detailed information about your search engine rankings and your competitors SEO tactics. While the majority of SEO companies offer you to choice of just 3-5 keywords and track your positions, we offer a complete report of SEO actions taken by your competitors. We provide a plan for you to become more successful in Google rankings than they are.

3Our clients have seen improvements in search engine rankings on SEO even in this trial stage. You will see that our techniques really bring results. And they will bring more success if you decide to continue with us. The SEO trial is just a start that everybody can do on their own. The key idea lies in SEO analysis of results and further use of several other SEO tactics. This is the crucial part of the search engine optimization process and that together with further link building will bring prosperous results to your business.

4Some other SEO companies offer a few specific SEO methods and link building techniques like directory subscriptions or articles distributions. There are some important questions that every webmaster wants to know. Many other SEO companies are reluctant to answer these questions: Why do I have to buy this particular package? What it will bring me? Why do you believe this particular link building method is better than others and why is it more expensive? Does it really bring any results and will you refund me if it won't?

Choosing uForward.net as your SEO provider will let you concentrate on your business' processes and its financial results, rather than spending your time trying to understand what SEO expenses will bring you results and what will not. As a business owner you do not have to bother with questions about what META tags should your site have; what density of keywords is better in your industry,when search engine crawlers visited your site and what pages they failed to index and why, what backlinks and anchors bring you more results and which of the paid SEO actions are useless. Like a good chief who knows the right combination of the ingredients for a perfect meal, we know the ways to improve your rankings and get to the top.

5Upon our SEO plan completion you will become a SEO specialist who can do search engine optimization of your site on your own. With our SEO plan and tracking methods you will be your own personal SEO advisor. Should you decide to order any SEO services from a SEO outsourcing company in the future you will know the right questions to ask.
More about our SEO approach can be found on our FAQ page.
Why not try us be sure you won't need any other
SEO company?